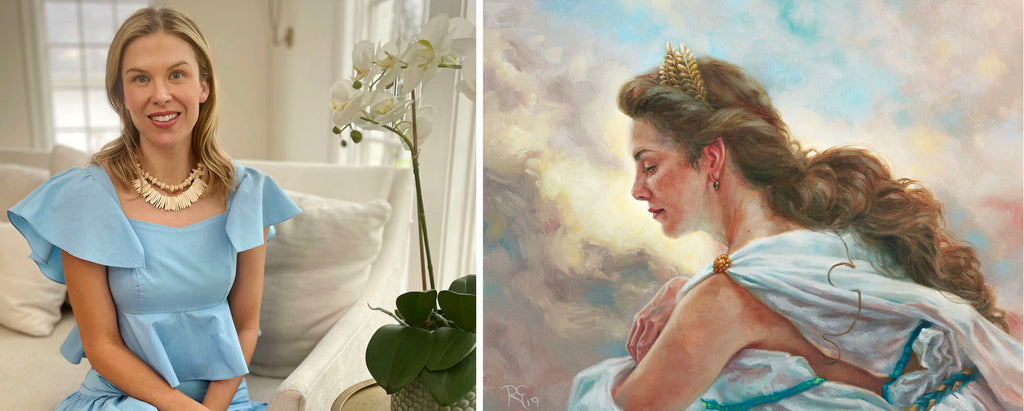 Get Your Greek On
with our SPRING 2022 COLLECTION!
As the winter Olympics have come to an end, now is the perfect time to share all the beauty and power of our Spring 2022 collection -- as our inspiration is everything Greek! 
The Pantone color palate for the season brings to mind the shoreline of Greece -- 
daffodil yellow
,
juicy orange
,
harbor and skydiver blue
 amidst natural stone, white sands, and tiled roofs.  And we've included some of your hotlist colors, too, such as
lilac
(yes, I LOVE this purple) and 
mint
, as well as light pastels of
spun sugar
and
gossamer pink
both you and the current runways love. 
In this line, you'll see long looks inspired by the
lines
,
swirls
, and
graduated arches
of columned ancient amphitheatres (maybe we were inspired by our own Nashville 
Parthenon
re-creation!), mid-length two-stranders in bright and bold colors, as well as some unique statement looks not just tied but chained to current trends of bigger and bolder linked chokers.
We hope you will enjoy exploring our theme throughout the season -- the many aspects of a woman revealed through the archetypes of GREEK GODDESSES.  We fill different roles throughout each day -- leader, worker, parent, child, teacher, student, caretaker, friend.  Each of us has a story we hope will carry forward through time, and we hope the stories these looks tell will travel with you and enhance your path through each day.   
.   
Everywhere we go this spring and summer can be just a little brighter, more colorful, and even more memorable, with tales of ancient times enhancing not only neck, wrist, or ear, but reflected in your life and adding a sparkle to your mind's eye, as you ferry on toward your next horizon.
From
Daphne
, with its Doric columns illuminated by a blue sky, to the strength and wisdom of
Athena
, to the mystery and intrigue of our chained
Nyx
, know you will find a look that brings out your inner goddess, as well as fitting your personality, style, and life.  
And this season we are revealing the largest and most diverse selection EVER of our Hearne earbobs, dangles, hoops, and studs!  Check out our
White Turquoise Raffia Earbobs
,
Watermelon Tassel Dangles
, Cork-Lined Hoops in
Marine
and
Khaki
, and our
Beaded Beauties
, just to name a few.  May your shopping cart be full and the most difficult choice be, which to "save for later!" 
The Hearne Team has been working night and day to offer styles we think you'll adore and cherish. We love your smiles, whether secret or broad, love the moments of life you share with us, and our goal this season is for you to look and feel like today's Greek Goddess!
So spring forward with a classic twist on fresh, Hearne-style!  Go Greek!
xoxox,
Leigh + the Hearne Team
---FREE GIFT---
First 10 orders over $99 will receive a FREE pair of real shell stud earrings!! 
These treasures from last spring will pair beautifully with many of our fresh looks!
Goddess Earbobs
 Our Aphrodite Necklace
Our Daphne Necklace
Our Circle-n-Square Dangles & Beaded Cuff 
Our Nyx Necklace